Well, how did I get here?
I never saw it coming. But in retrospect it all seems so perfectly obvious.
My earliest lessons in photography came from my father and maternal grandfather, and I'd like to think some great photo gene was passed down to me from both sides of my family. I might have even considered pursuing a career in photography when I graduated from high school back in 1983, but I had very little patience with the photo processes of the day. The darkroom (a place my dad loved!) with its smelly chemicals, the expensive paper burning through my weekly allowance, my anxiety about scratches and dust… it all overwhelmed me.
But photography remained a vital part of my life. I loved being able to express myself visually and to give something valuable to my family and friends: uniquely vibrant and true portraits.
When I packed myself off to art school, I chose to major in graphic design. Fast forward 18 years, I had my own successful, established design studio and professional clout, but also an increasingly nagging desire to take on a new challenge.
Enter Max (my son), stage left.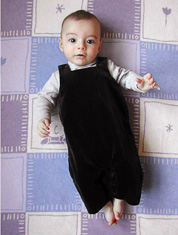 Blessed with the most incredible muse on the planet, I was beyond excited to capture the fleeting moments of his childhood, and I rushed out to purchase a new digital SLR camera. Gone were the days of my old darkroom frustrations. Technology now allowed me to process and enhance my images with unprecedented ease, speed, and creative freedom on my desktop computer.
Two years later, I found inspiration again while photographing the Burns Park Players as a member of the crew. When my behind-the-scenes photos were exhibited outside the auditorium, viewer response was unexpectedly enthusiastic and overwhelmingly positive.
In true "What just happened?!" fashion, my career as a professional photographer was launched. I kissed graphic design goodbye and dove into this new adventure. Myra Klarman Photography, born in 2006, has been taking me on the ride of my life ever since.
I still have to pinch myself. Because, truly, I'm astonished when I stop to think how I got to where I am today. How my family background, my design career, technological advances, and a neighborhood theater project all conspired to carry me into my life's work: capturing the extraordinary qualities and inherent beauty of individuals and families, and celebrating the amazing community life of Ann Arbor.